29, 30 sept. and 1st Oct. / à partir de 20h / free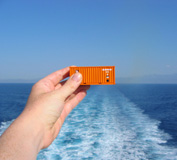 Conteners is a mobile artistic network functioning throughout creation/diffusion seasons. Its most striking feature is to offer artists to achieve works — over three cities/territories — related to an industrial container (on, in, or around it); the works only exist when all the pieces of the big puzzle are connected.
For its first public venue, Conteners is initiating a first generation of artworks by asking three artists to play the open process game: everyday, they will discover — on a virtual working space on www.conteners.org what their new working steps are. After one week of simultaneous artistic residency, the three containers will be gathered in Dunkerque, Paris, and Marseille, and will set up a composite work (a collective device made of three particular artworks).
Three festivals:
12 - 16 sept. : Simultaneous creation residency / to be followed live on www.conteners.org
22 - 25 sept. : "God Save the Cranes" festival at the Nautilosh, Dunkerque
29 sept. - 1st oct. : Emergences festival, Paris
3 - 8 oct. : Digital Emeute festival, Marseille
Three artists : Dunkerque : Jan Stropdas (NL) / light and sound installations / (to be confirmed) / Marseille : Mariusz Grygielewicz (FR/PL) / sound and plastic arts / Paris : Haïm Adri (FR/IS) / Dance-vidéo
With support of DICREAM and DRAC Ile-de-France / Ministère de la Culture et de la Communication Coproduction : Grenouille / Euphonia, Système Friche Théâtre, ZINC-ECM Belle de Mai (Marseille), le Nautilosh (Dunkerque). Corealisation : Stubnitz (Rostock) In parternship with EPPGHV, Dédale and association Co-opérative